Townsville Crocodiles vs New Zealand Breakers game 1
The New Zeland Breakers host the Townsville Crocodiles for game 1 of the semi finals. The Breakers are too strong I do not see the Crocs getting a single win on them. However people wrote off the Cairns Taipans last year and they nearly won it all. So given they play the best ball they have and they know how the breakers play to a T they could get a win or even 2 if there lucky as well.
Townsville:
Eddie Gill really needs to step up and be the superstar the crocs need. At the moment no one is out and out leading that team to a win. Gill has not yet been the driving force that people expected from an NBA veteran. And in the league of amazing import guards we have this year he just blends in. For Crocs to get up he definitly needs to make some plays happen and hit that jumper consecutively. Gill recently injured his hand in practice tearing the webbing in his hand but by now that should be about healed.
Peter Crawford will have to be draining the 3s from the arc and bringing out vukona and abercrombie away from the basket so the big man Schencher can pull down some rebounds.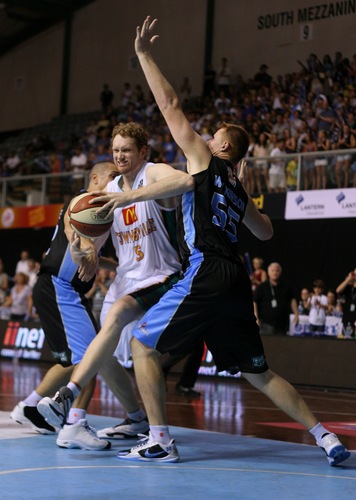 Holmes will also have to be on his game hitting that jumper he never was last season and pulling down some rebounds that he has been quite consistent with of late.
Elvin Mims needs to increase his defensive effort and use that atheltic ability to pull down some rebounds for some second chance shots.
And the big red Shencher will have to be a force on the inside. The crocs have been going to him more and more this season and has been putting up some decent numbers. If he can contain Wilkinson and actually dunks that shit it could be a good game and closer then people are expecting. But of a huge point they will have to box out on every single shot. The Breakers are leading the league in offensive rebounds and with a team that has so many offensive threats they cant be allowed second chances.
The New Zeland Breakers
The Breakers are the favourites by far in this series and with a record of 21:7 with 13:1 at home you can see why. After losing Kirk Penney after last season many people wrote of the breakers. But after recruiting american Import Cedric Jackson the Breakers are still just as strong.
Cedric Jackson is an amazing court general he leads that team perfectly and has become more and more confident with his jump shot nailing some threes of late. When he and Tom Abercrombie team up it can be a night of big alley oops and dunks.
Tom Abercrombie has really stepped up this season and has show how incredibly athletic he really is. He's been draining threes, pulling down rebounds and throwing down some flashy dunks. But he will have a tough match up with Peter crawford or Jacob holmes who will draw him out from the inside and make him work for those rebounds.
Gary Wilkinson is a massive presence inside and out for the Breakers. He consistently hits the 3 ball and standing 6'8" can muscle out nearly any big in the league. He will be a tough match up for Schencher, holmes and crawford, he cant be left open on the outside and often double teamed on the inside.
Mika Vukona is a straight up work horse. He works harder then anyone I'v seen on the court. If the team is lacking on rebounds he'll step up and box our hard. Crawford will have to ensure he contains Vukona and tries to keep him on the perimter when a shot goes up.
CJ Bruton has been a bench player of late having Darryl Corletto filling the starting position but in a finals game there is no one el's I would want on my team then CJ. He has played in 4 championships winning teams and keeps his cool like no one els in clutch situations. Down the stretch he will likely be leading the team to the win when the game is on the line.
The New Zealand breakers are the heavey favourites at $1.18 with Townscill Crocodiles at $4.80 by centrebet but I think this game will be closer then people think. Townsville can play very well when they work as a team and get there plays and rotations working. However the team New Zealand have a so strong and with CJ to lead them down the stretch Iv got the Breakers up by 6. Either that or it will be a blow our with NZ up by 22.