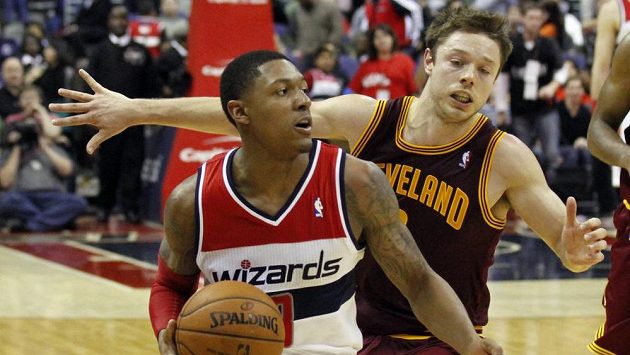 Mathew Dellavadova is dominating with the time he gets on the court. In the last two games against the Washington Wizards he has played 30min and 20min and both in the closing quarters and over time. Also in both games the Cavaliers have come back from a defecit to to take it to overtime and the win or get them back in the hunt from a huge deficit of 26 in game 2. In game two against the wizards in Cleveland Dellavadova dominated on D and made some huge 3 pointers. Kyrie Irving got hot on offense and from 26 points down Delly's hustle and Kyrie's offence got them within 4 with 2:36 left in the game. Unfortunately a loose ball foul on a rebound contest with 1:46 to go sent Gortat to the line for the wizards in what could have been a play that brought them within 2 and they held the lead. Despite a long 3 on the buzzer by Kyrie Irving the Wizards got the win 98-91.The Cavaliers look like a much stronger team when Delly is on the floor as they can let Kyrie Irving go himself on offense or he can use Dellavedova to move the ball around the floor and get himself or someone else an open look through good ball movement. Irving and Delly really seem to gain energy off each other Delly on D and Kyrie on offense.
In his rookie year out of college Mathew Dellavadova has worked his way onto an NBA roster through a camp invite and good summer league performance and now he is working himself into minutes for the Cav's. The same way he worked his way on to the starting line up for the Boomers at the 2012 Olympics, he is creating a niche in the NBA. Mathew Dellavadova is a workhorse with a very high basketball IQ. I hope we get to continue seeing him on the floor.
With the introduction of players with NBA potential (James Ennis) and NBA players (Sam young) in the NBL as well as more Australian's in the NBA it seems like more respect is being given to Australian basketballer's. Apparently Chris Goulding has been getting on the NBA scouts radar with his huge start to the season and its obvious Australian basketball is on the rise. I can only hope the Australian media finally catch onto it and give the the NBL some air time in the sports news.
Check out the game report and highlights here:
Unfortunately all it shows is offense but Delly had a huge impact on Defense probably more then his 9 points even had for the come back.