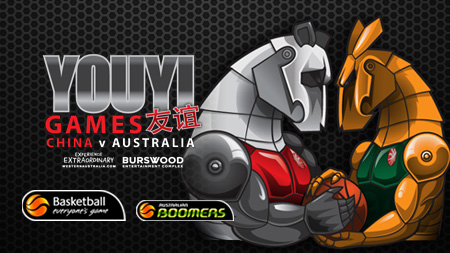 Australia defeated china 3-0 in the friendly Olympic warm up YuYi games. The games were played last saturday 9th of june, Monday the 11th and wednesday the 13th with Australia taking out each game. I was only able to watch game 1 so far with game 2 not televised and game 3 having a delayed telecast on saturday on channel 9 at 2:00PM. Game 1 was close with the boomers shooting abismally at 27% at half time. And the score line showed it going down by 10 in the third. But they showed that they can shoot and took out the victory by 11 at full time 55-66. This was largely due to the impressive shooting display of Peter Crawford in the last half finishing the game with 21. Mark Worthington played good hard basketball throughout his time on the court and if it wasnt for his poor shooting would have been the best player on the court finishing with 11. I hope people who doubted his effectiveness on the Boomers squad now see his skill and effectiveness. China played some impressive zone defence that seemd to stifle the Boomers who could not get access to an inside shot.
Game 2 was not televised so I did not get to see the game. Australia won 69-65 in a closer game with top scorer Aron Baynes 15 follwed by Mathew Dellevadova and Mark Worthington with 11. The game high scorer was Sun Yue from China with 22 followed by Wang Shipeng finished with 12. It was a close game throughout the first half with China at one point getting up 13, till the Boomers went on a 14-0 run and closed out the half 1 point in front. The final half was close in a high pressure defensive effort, but Australia finished on top 69-65.
Game 3 is going to be televised on free to air on channel 9, Saturday at 2:00pm. For now all i'v heard is that the boomers won but apart from that I'm trying not find out, sorry.